---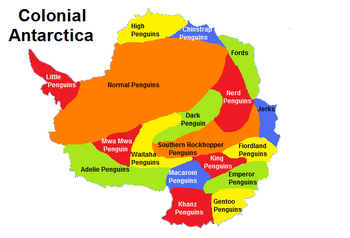 Colonial Antarctica was the ruling system government over Antarctica after Olde Antarctica, and before the United States of Antarctica.
Brief history
When STINC control of Antarctica was overthrown, penguins suggested a new government. Eventually they decided on a monarchy, with a king. The penguins were divided into colonies, based on their species, and were ruled by a king (usually one of the genus Aptenodytes), whose palace was located on King George's Island on the place where now is CP City. Now it just so happens that King George's Island is incredibly close to Club Penguin Island, deserted at the time.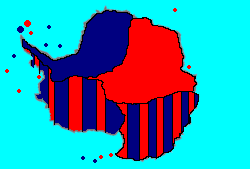 Then, one year, the new king began taxing heavily on things like coffee, ice, fish and such. The penguins decided to revolt, and a small band struck out in a ship to overthrow the king. Eventually, the band reached Club Penguin. Using the island as a base, the band recruited and brought more penguins in their army. Then, one day, they invaded the castle and defeated the guards with a Snow Ball Gun. They threw the king in a broom closet with neccessary supplies and put the closet out to sea, unlocking it so that the king could at least survive. Then the band left the island and formed a "Club", the exact same one that started South Pole City. After leaving South pole City in the flippers of Judge Xavier, they went back to the island and decided to start a town, which became the island of Club Penguin.
On the present day island, there is a lost underwater tunnel on the north side of CP that leads to King George's Island in what now is CP City. The tunnel was dug by the "Club" to provide a passage into King George's Island. Some young reckless chicks found the tunnel and started a new town there, which eventually became Club Penguin City.
See also